Posted by admin | April 23, 2016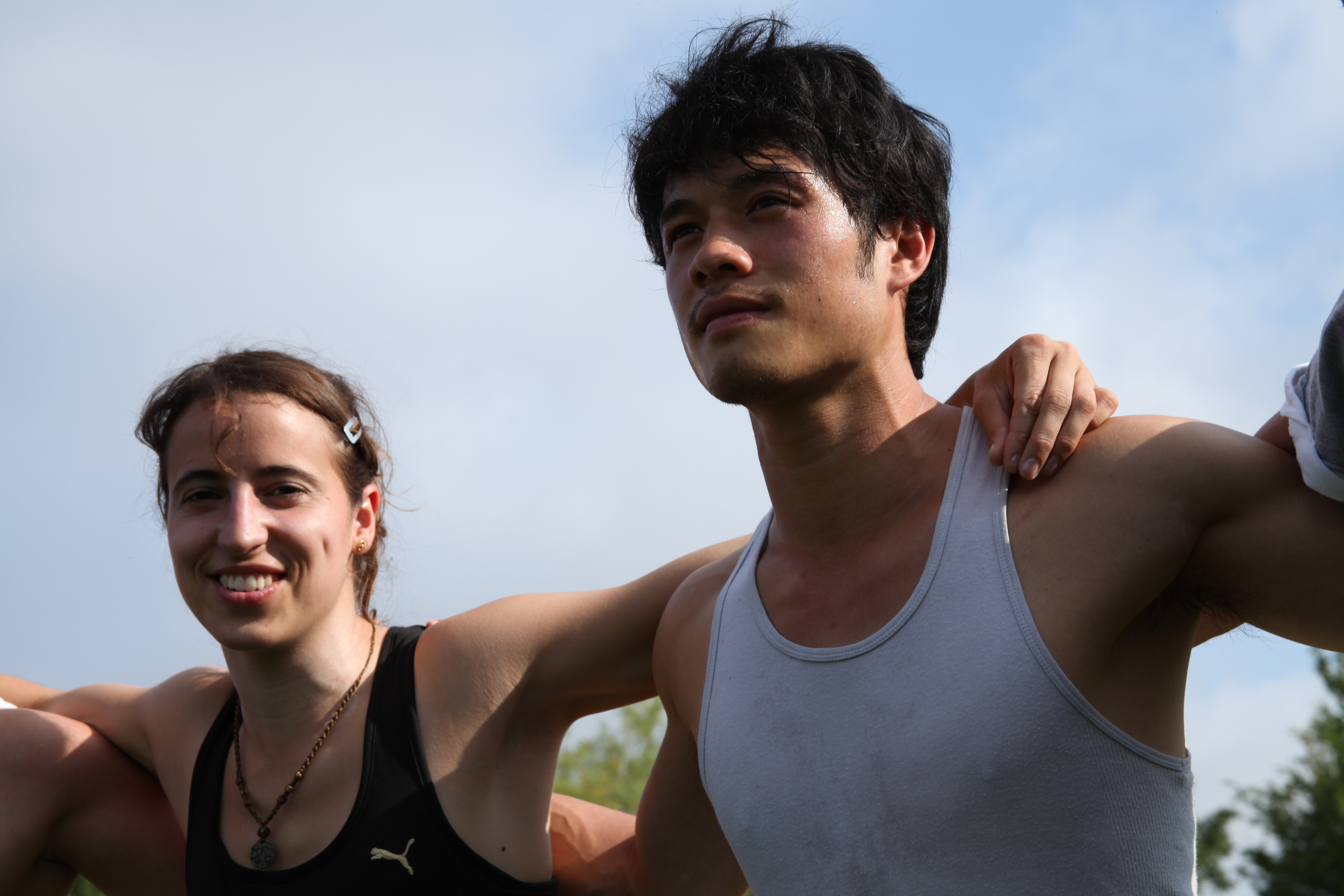 "I decided to consider an obstacle as a friend, a helpful friend. Well, you should still pay attention where you put your foot in/on…" Williams Belle
The 7 hours' time difference created blank stares all round. Luxury was a new type of habitat for the British Urban Freeflow Parkour team but in the heart of the entertainment and shopping district the Hilton Singapore on Orchard Road made everything ok. There were more orchids decorating the side of my plate than I had in my London flat as we settled into our first meal, and I was very keen on orchids.
Eighty five miles north of the equator Singapore is hot & humid. The sun shone, the rains poured and warm winds blew everything dry on a daily basis.  Reflective buildings screened the on-going battle for space & light between tropical vegetation and rampant commerce. One of the 'Four Asian Tigers' alongside Hong Kong, South Korea and Taiwan, and the fourth largest financial centre in the world; where East meets West and centuries of trade continued; this would be home for the next 6 days. 
Through Chinese whispers and, thanks to Williams's lack of a mobile phone, some old school communications on foot, somehow the job had been arranged by Chau travelling to his families house in Sarcelles and communicating in person. Williams should have arrived but with no means of contact he hadn't and we were all none the wiser.
The creation of advertising media for the launch of the 'Built to Play', new Nokia 5500 sports phone had brought us together as we sat at the ad agency offices the next morning. Ez had arrived a few days earlier to scout locations with the photographer and was somewhat more alert than the rest of us. I would be shooting 'behind the scenes' footage and advising the video director. It was the kind of freelance work that kept you going in the 'quiet' months, the kind that I'd only ever dreamed of. The staff smiled continuously and spent all morning going through images and ideas for the campaign but there was one thing on everyone's mind…where's Williams? The other talent – Forrest, Asid, Sticky and Tracey liked and agreed with everything proposed and all silently thought, but where's Williams?
The office girls swooned as their heartthrob came through the door. It was a real life Yamakasi.
Smiling, laughing, following but barely speaking a word of English here he was, Stephane Vigroux's good friend, a "very positive man". To my English eyes he looked no more fifteen years old but was twenty four. Tired yet an ever-present energy stood in front of us. Formalities done and dusted it was already time for lunch.
The noodle bar had a large offering of everything Williams liked: Asian cuisine. Ez sat centre stage with his back to the wall. Williams pulled up a stool and sat perfectly poised on its edge facing him.
"How was the flight? Everything ok?" Ez enquired as the anticipated polite, basic conversation began.
'Yes, yes, everything fine' said Williams. "Why do you do it? Why do you do what you do? Why do you train?"
Nobody expected such direct and immediate questions when we'd all only just met for the first time, least of all Ez. Wow. He'd got the guy the gig and here he was, all smiles, peace and love, but so direct. Who was he to be asking him?
With a look of shock and anger Ez remained glaringly silent and Williams continued,
"I know why I do, it's very clear for me/ Why do you do?"
Whilst some pretended to continue ordering and discuss noodle variations, the rest of us sat silently.
"I do it because I like it and I want to." Ez's voice was stern, abrupt and abundantly full of annoyance.
"But why?" Williams persistence fuelled fewer words than Ez had ever spoken. "I like it, OK?" A quiet lunch prevailed.
The air-conditioned van drove around the 'Parkour sights' of Singapore all afternoon. A car park and pedestrian underpass were the main locations of choice. "Yes, ok" Williams nodded and looked happy to be there but looking at locations wasn't what he really wanted to be doing.
Tracey, Sticky and Asid weren't what you would call 'morning people' even in their own time zone and, as a result, we never stood a chance of leaving the hotel on time. Waiting at reception the next morning Williams ran past Forrest & me into the hotel, surprising us both. He'd been busy, out and about looking for some cheap electronics for his brother but instead returning with the best ripest mangoes he could find. What a prize! He was the happiest man on the island for sure.
When we eventually arrived on set the car park, like many buildings on the main island, was high. Really high. With nowhere to build, developers went up. The rooftop storey offered amazing views as the grey rainclouds rolled in for their daily visit. Hair, makeup, costumes—everyone was set as various movements and sequences were allocated to each athlete. All eyes were on Forrest as he swung across a section of wall, his arms displaying no effort or tension in moving his whole bodyweight from A to B. My pidgin French wasn't much company for Williams so with Forrest busy he quietly kept out of the way. He peered over the edge of the building and then before anyone could say or do anything he was in a handstand position on the edge of a wall at the top of a building hundreds of feet above the ground. Away from the cameras the most stunning image of all was created as a life-long discussion Williams had been having with himself and the world took place.
The assistants drew their phones from their pockets faster than they had done anything all day. Photos were taken, small video files captured. He stayed inverted.
Ez was furious. The risk, the spectacle, what the hell! This wasn't what they were there for. He always gave his guys strict orders that nothing should ever be out of their comfort zones for media work. 80%, that was all a client deserved, nobody should be injured no matter how hungry the media was for their 'pound of flesh'.  Williams apologised. He understood their reaction even though they didn't understand his action. He kept them happy and continued to just play by spinning his body around his palm on the edge of the wall instead. The athletes looked on with reverence as Ez rolled his eyes and stormed off. He may be a Yamakasi but he was also a pain in the ass.
Hot exteriors and cold interiors played havoc with everyone's immune system and energy levels after each long day of shooting. I took advantage of the rooftop swimming pool at every opportunity. I passed the gym on the way up and every night saw the same thing; sweating, doing exercises and movements I didn't understand and had never seen before, Williams trained. Disciplined yet not regimented— a difficult mix to see and understand. On occasion Sticky would join him and ask questions and Williams was always willing to help.
One evening on returning to the hotel everyone was very tired. Ez, Sticky & Asid had been busy taking advantage of Singapore's nightlife while the rest of us enjoyed selections from the hotel's many varied buffets. Williams reached into his bag and pulled out a small handycam. "Little jump. You can help me record?" he asked.
We strolled out of the hotel to the rear of the building. The subterranean car park entrance had two large square pillars on each side with a wall adjoining each side. One pillar was higher than the other, matching the contour of the slope, approximately XXXXXX metres apart. Williams pointed and smiled at the gap. It was impressive. He climbed the highest pillar and checked the edge of the take off point then calmly paced back to his starting point along the wall. He looked as calm as ever, always connected, relaxed but aware. Purposeful somehow. A single big breath out and he began to run. Ten strides later his body launched up into the air, his hands rising for additional height, legs together and knees raised, a textbook, perfect execution of posture and positioning as he passed across the top of the gap. The legs extended, gliding down to make contact, landing precisely on the edge of the lower pillar on the other side of the gap. The Williams Belle personal video collection had amassed another clip no one would ever see.